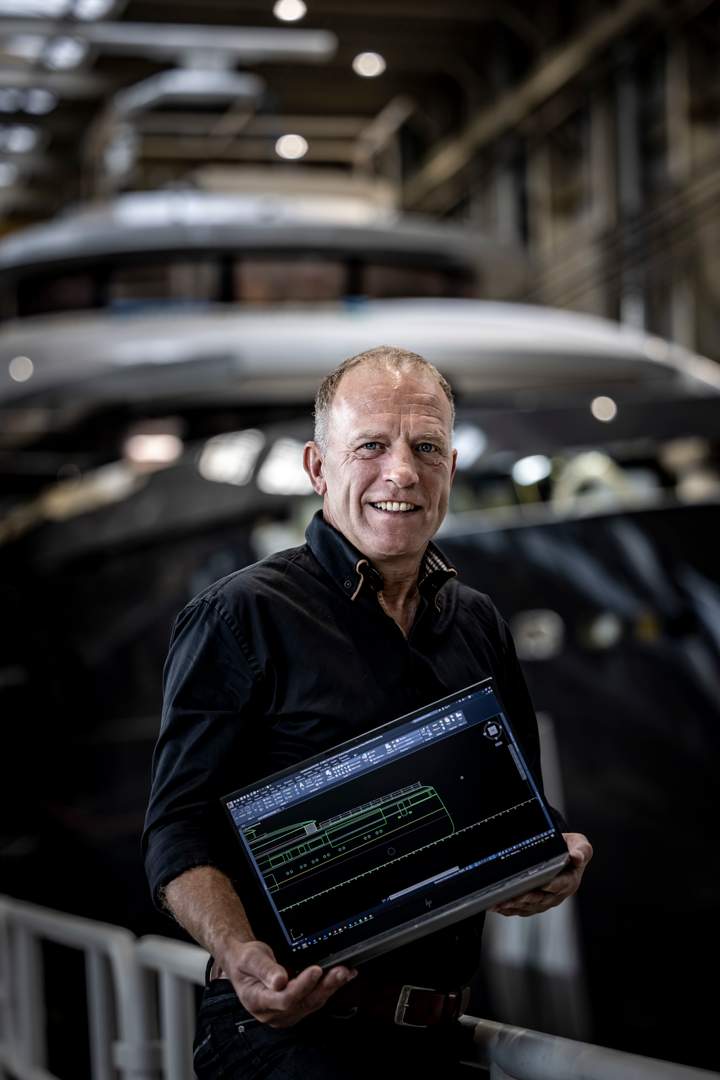 Simon
Function title: Engineer Exterior
Feadship Hero since: 2016
Domain: Engineering
Simon
Function title: Engineer Exterior
Feadship Hero since: 2016
Domain: Engineering
Actually, Simon wanted to be a bricklayer. "I come from a contractor's family; it was natural for me to do LTS and then MTS. There I came into contact with design and drawing work. First I was an interior engineer for large sailing yachts. I came in as a draughtsman and some thirty years later I did much more: did a bit of design, sales and construction supervision. Since 2016 I have been working as an engineer exterior at Koninklijke De Vries Scheepsbouw in Aalsmeer."

"What remains fascinating is that you start with nothing every time."
"Exterior is everything you see on the outside of the boat: the paintwork, the deck, all the windows, doors, the outdoor furniture, the ceilings, pools, flagpole and railing. And then different for each project. That makes the work fun and diverse."

"What is, and remains, fascinating is that each time you start with nothing. The first line on paper, that's the beginning. The birth of a yacht. And three, four years later it is here behind the yard, custom made. In that interim, a lot happens!"

"From the moment the design is delivered, my work starts: how are we actually going to make it? My colleagues and I start by building the yacht in a 3D model. Part by part. From 'rough' to ever finer detail. From this we make 2D detail drawings that the production can get to work with. The motto here is: 'it can't be done'. Colleagues from all disciplines are involved in making the models and drawings. Because everything has to be right. And when a problem arises, you need each other to come up with a solution."

"This 'coming up with solutions together,' that's what we do during the CD sessions. CD stands for Concurrent Design: a system 'copied' from the European Space Agency. We send the challenges around beforehand so that everyone can already think about them. During the interdisciplinary sessions, we take decisions together."

"And so we go, step by step, from the lower decks to the top of the mast. Finally, after customer approval, the drawings are ready for production. And my work begins again with the next project."