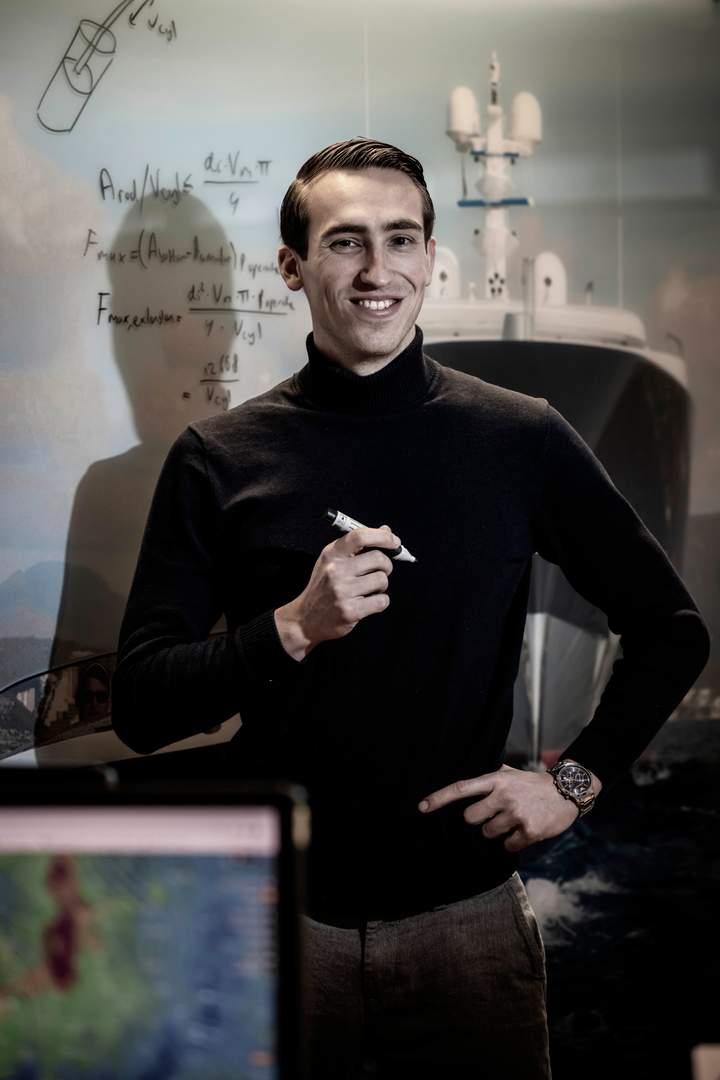 Aaron
Function title: Researcher Knowledge & Innovation
Feadship Hero since: 2019
Domain: General
Favourite Feadship: SYZYGY 818
Aaron
Function title: Researcher Knowledge & Innovation
Feadship Hero since: 2019
Domain: General
Favourite Feadship: SYZYGY 818
In April 2019, Aaron started as a trainee at Feadship. During his time at De Voogt Naval Architects, he was almost immediately involved in a project on the application of an alternative fuel. "I had no experience with it, I had only just finished my mechanical engineering studies AND I was new to shipbuilding." Aaron laughs, "It seems like this story is going in the wrong direction, but the opposite is true."
Meanwhile, within the Knowledge & Innovation (K&I) department, part of De Voogt Naval Architects, Aaron is responsible for mechanical engineering and system-level innovation. "The major research issues are coordinated centrally from here," Aaron explains. "My colleagues are all specialists in their own areas; materials, software, digitalisation, sustainability, naval architecture and knowledge management. As K&I Feadship, we are primarily an integrator of systems: we define the direction of a study and then work with colleagues and specialised co-makers together to implement it." So it was with the alternative fuel project. This project was so innovative, by the way, that for a while the project team didn't know where to start.
"As Feadship, we are the glue between parties of all kinds"
"A lack of knowledge can also be an advantage," jokes Aaron. "As a starter, you don't know what's possible and what's not. So you just start!" Quickly, Aaron grew into an expert on alternative fuels. "I became the point of contact for the operation of this system. The suppliers brought years of experience but had never been able to apply their product on a large scale; there just hadn't been a demand for it yet. Our project was the impetus to develop the technology further; everyone was brimming with enthusiasm. As Feadship, we were the glue between all parties. In a few months we developed a whole new system together. I am very proud to have been able to be part of it."
Aaron likes to explain how the work of the K&I department is related to the yacht building process. "Often," he says, "research work takes place when an application for it is not immediately known. When an innovation - either a product or a process - is sufficiently developed, we look at how to apply it." Aaron emphasizes, again: "Collaboration is very important to our department. That's why my job is a mix of research and project management. I like that. I get a lot of satisfaction from creating products and processes. But working together provides a valuable social component to my work."
"There is something magical about a Feadship and that radiates into the work. The connection with such a unique yacht makes my daily work just that little bit more special."