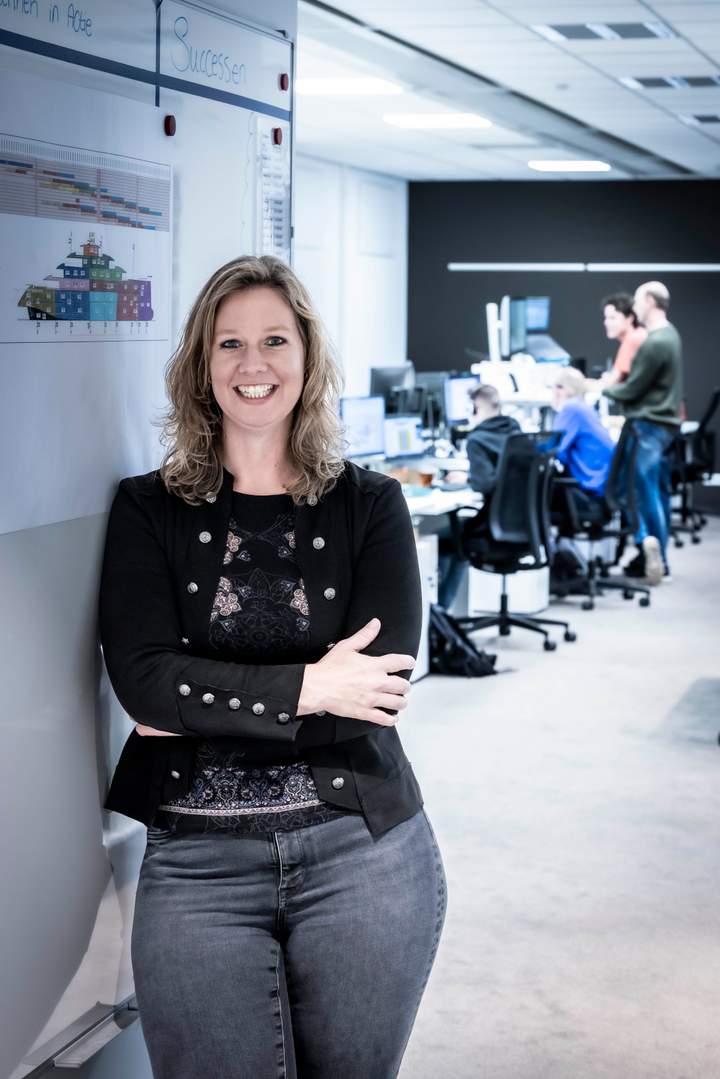 Pauline
Function title: Office Manager Engineering
Feadship Hero since: 2018
Domain: Engineering
First Feadship: Lady S
Pauline
Function title: Office Manager Engineering
Feadship Hero since: 2018
Domain: Engineering
First Feadship: Lady S
"Being surrounded by people: that's what I like!"
She is a practical point of contact for all engineers at Kaag and Amsterdam, Office Manager Engineering Pauline. "Questions about a training course or problems with hours? I'll solve it. I also make sure new engineers can get started."
"I had worked at a large company before," Pauline explains, "at the Flower Auction in Aalsmeer. Our department had over 400 employees; I was the point of contact there. But then I moved to a small company for a while and there I noticed: I really like having a lot of people around me. This makes the Feadship shipyard really something for me. Moreover, I started here in a brand new position, which meant that I could completely fill it myself."

"In the morning I usually check hours and invoices. Then it is the turn of my manager's diary: are there duplicate appointments, do I need to reschedule? Can I schedule new appointments? I also check whether the team has responded to the CVs of applicants I sent them. Can I invite candidates already? If so, I schedule it right away."

"When new engineers come in on their first day, I welcome them. I give them a laptop, Teamcenter training, and I provide a lot of information. Great," I'll think, "now they can get going! I also pair them up with a buddy; he or she shows them around the company."

"Sometimes there will be a tough challenge... Like moving an entire team from De Voogt Naval Architects (DVNA) over to Amsterdam. For a particular yacht, the engineering teams from DVNA and the shipyard had to work closely together in Amsterdam for a while. With a bunch of colleagues we worked extremely hard to prepare the entire thing: monitors, keyboards and mice had to be installed in one day. At the end of the day, everything worked! We all sat down for a pizza, very satisfied indeed!"

"Another special project: when the hull of project 819 came to the Kaag for completion, there was a party. All colleagues who were going to work on the yacht were invited; a kind of transfer from engineers to production. I made the script together with colleagues. Part of it was a pub quiz about the 819. That was great fun to do. If the answer was right, the team would hit a mega long nail in a mega big block of wood - the first to fully hammer it in was the winner. We also got to go aboard to see how far along the ship already was."

"Feadships? For me they are easy to spot, unmistakably, if you live around De Kaag", laughs Pauline. "But of course I always saw them from a distance. The yacht Lady S was at the quay on my first day of work. How nice it was that now I could actually look on board! Although all yachts are beautiful, Zen remains my favorite