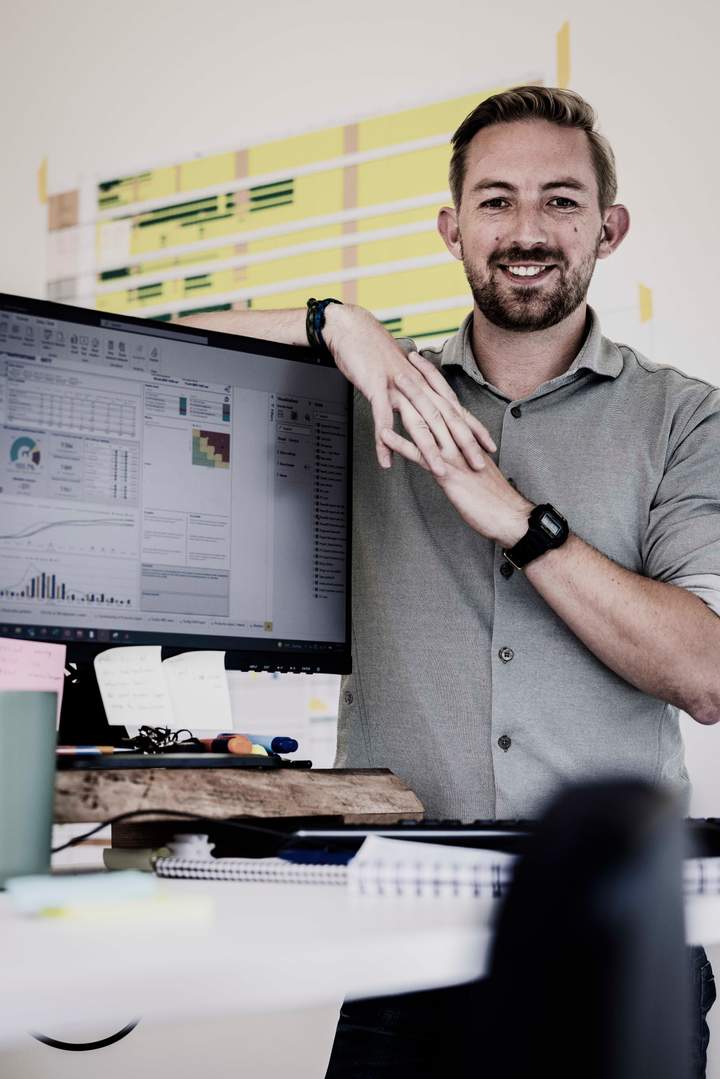 Jelle
Function title: Projectplanner
Feadship Hero since: 2023
Domain: Support/ staff departments
Favourite Feadship: Faith
Jelle
Function title: Projectplanner
Feadship Hero since: 2023
Domain: Support/ staff departments
Favourite Feadship: Faith
"I studied automotive engineering at the Hogeschool van Rotterdam. Although I soon realised that this wasn't quite my world, I did finish the study. The way of thinking you learn on a technical study is very valuable, whether it's about cars, yachts or other technical installations." Jelle was looking for a challenge in which engineering, project work and the maritime sector came together. He found this at De Klerk Binnenbouw in Moordrecht in the role of Project Planner.

"It's very cool to see everything come together in the end."

But what does a project planner like Jelle do? "It starts very abstractly, with the idea: 'we are going to build a yacht from scratch'. To build a yacht, and to deliver the interior on time, we need a plan. For that, we use a calculation with all the hours the different teams and departments need to build the yacht. Connecting all activities - including hours, lead times, dependencies and sequences - creates a schedule. That is then the schedule for the interior of one yacht. But, of course, we build multiple yachts. It is up to our department to superimpose several plans, run scenarios and check where the bottlenecks are. I pass these on to the management, project managers, line managers and team leaders, in order to come up with a good solution together."

It is a complex job, in which Jelle has to deal with many different parties, each with their own interests. "But it's very cool to see everything come together in the end, to see our plan become reality. The more knowledge and experience I gain about building yachts, the better I can identify bottlenecks, and the better I can get everyone… well… on board."

"But perhaps the best part of my job is that one year all I see is codes, with construction elements of the parts to be built. A year later, all those codes and hours have suddenly turned into a beautiful yacht, with real furniture built in wonderfully. From an abstract to a concrete yacht, that's very exciting to see."