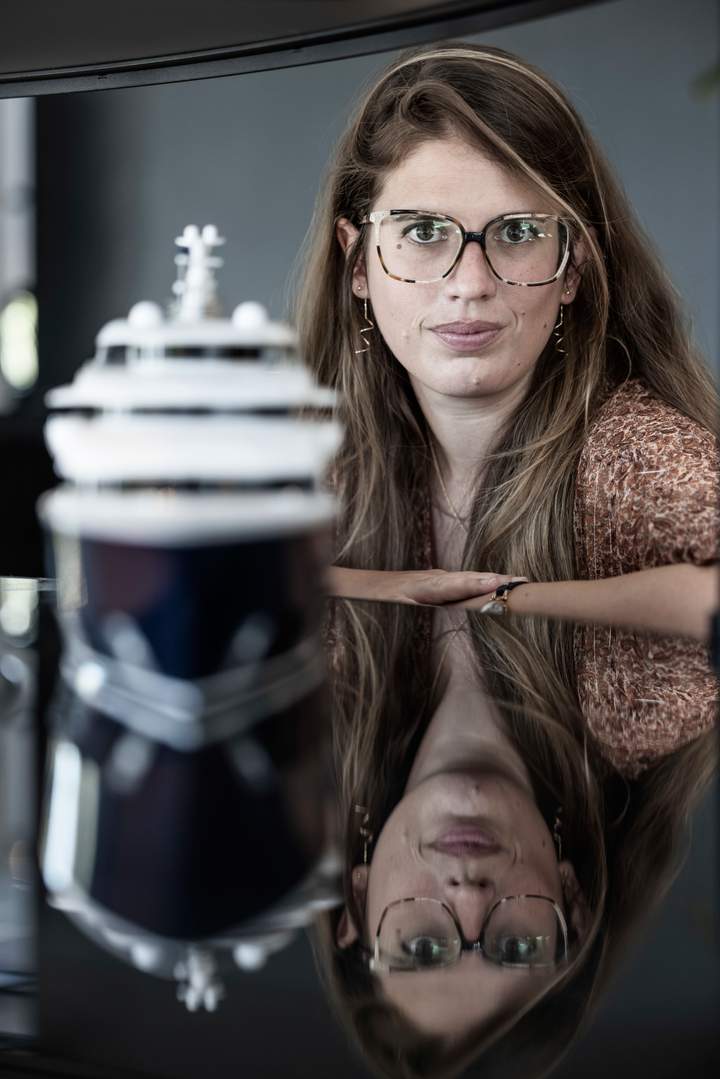 Lisa
Function title: Structural Engineer
Feadship Hero since: 2020
Domain: Engineering
Favourite Feadship: Faith
Lisa
Function title: Structural Engineer
Feadship Hero since: 2020
Domain: Engineering
Favourite Feadship: Faith
"We're working toward Better Is Impossible."

Lisa has worked at Feadship since 2020 as a Structural Engineer. "I have a passion for yacht design and for the sea," she says. "And I have a head for engineering. So at Feadship I really feel at home."

Lisa is from Italy and started there after studying Yacht Design at a renowned shipyard. "After a few years, I was ready for a new, international challenge; being able to work at De Voogt Naval Architects (DVNA) was the perfect growth opportunity for me."

She moved to the Netherlands in early March 2020; soon after, covid turned the world upside down. After just a few days, Lisa was already working 100% at her kitchen table. She only saw colleagues digitally. "I was determined to make something good out of it," she says. "That those first jobs succeeded, that still feels like a great success."

About the process of engineering, she explains: "Each engineer at DVNA is responsible for part of the yacht's construction. Our basis is the layout provided to us by the Project Engineer. From there we develop and draw a model. This involves a lot of thinking and creativity, because many solutions and the corresponding information are not known at that time. In the model we add an endless amount of details, integrating items from disciplines such as Mechanical, Interior and Exterior. What makes it extra exciting: the customer looks over our shoulder and has his wishes."

So what does my day look like? That varies, depending on the stage of a project and my specific job". Sometimes I have prepared a proposal to discuss with the project engineer. Sometimes I put the finishing touches on an existing model. And sometimes I work with colleagues to prepare and check drawings.

"Each Feadship," Lisa explains, "is unique, with advanced technology and special design elements. So each Feadship also has its own challenges. It is quite normal for us to work as a team with many conflicting factors. For example, the structure must be strong and safe, light enough to allow efficient maneuvering and as small as possible to leave a lot of space for the interior. In addition, the specific aspects of a yacht that we have to take into account are legion. I love that complexity!"

"On the course toward an optimal solution, we seek compromises, eliminate ideas and develop others. Sometimes we just start over - which can be quite frustrating," Lisa laughs. "But with every model, at some point we reach the moment when we say to each other, 'you can't do better than this.' That's the moment that makes everything worthwhile."

"I consider myself lucky," Lisa concludes. "At DVNA, since I started in 2020, I have already had the opportunity to work in several departments. Now I work in Exterior Engineering.