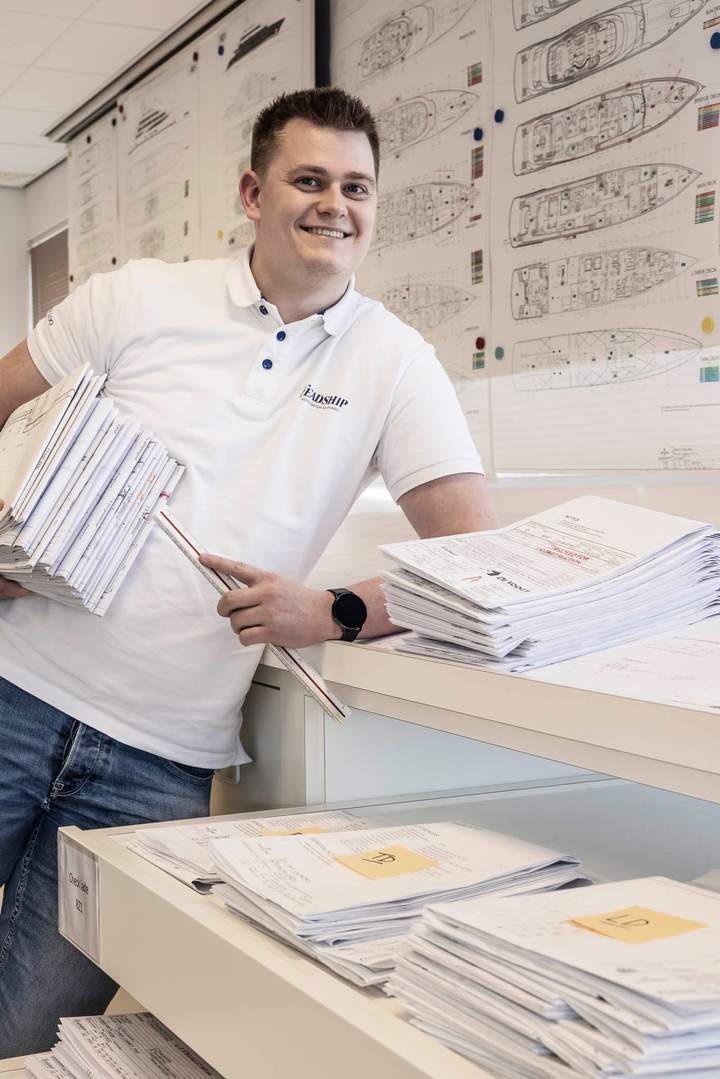 Jeroen
Function title: Project Engineer
Feadship Hero since: 2023
Domain: Engineering
Jeroen
Function title: Project Engineer
Feadship Hero since: 2023
Domain: Engineering
"The complexity of the interior is superior."
One day, when Jeroen was cycling along the De Gouwe Canal in his high school days, he saw a huge yacht sailing by. It was Feadship construction number 802, Tango. From that moment on, he knew exactly what he wanted to do later. "I came home and immediately told my parents: I want to work on a yacht like that! The idea of becoming a furniture maker was already there, but now I also knew where that furniture had to go." A few years later, Jeroen completed an internship at Van Der Loo Yacht Interiors (VDL). "The first yacht I worked on was the 814 (Lady S). I have since advanced to the position of Project Engineer, in which capacity I am responsible for the quality and unity of the drawing work that goes to the factory."

Jeroen works with quite a large and diverse team. "Every day our project team meets with draftsmen, work planners and senior engineers. I then make sure the interior is correctly translated from the design phase to the production phase. I am also in touch with our client to answer questions and determine together what the final result will look like."

The final result of the 807 (Sea Owl) is what Jeroen is most enthusiastic about. "I didn't work on it, unfortunately, but that yacht is a combination of pure craftsmanship, eye for detail, perfectionism and luxury. The complexity of the interior is superior, a sight to behold."

But what makes working at VDL so special? "Working on a superyacht is truly unique. It's really about quality and craftsmanship. We want everything to be perfectly put together. That challenges us in the production and duration of a project, but then the result is always beautiful. The best part for me was working out the wheelhouse of construction number 823. The complexity of the furniture work combined with the engineering was enormously trying, but it worked out great. I'm really proud of that. And I'm proud to work here, Van Der Loo Yacht Interiors offers people the opportunity to grow and achieve everything you want to achieve."