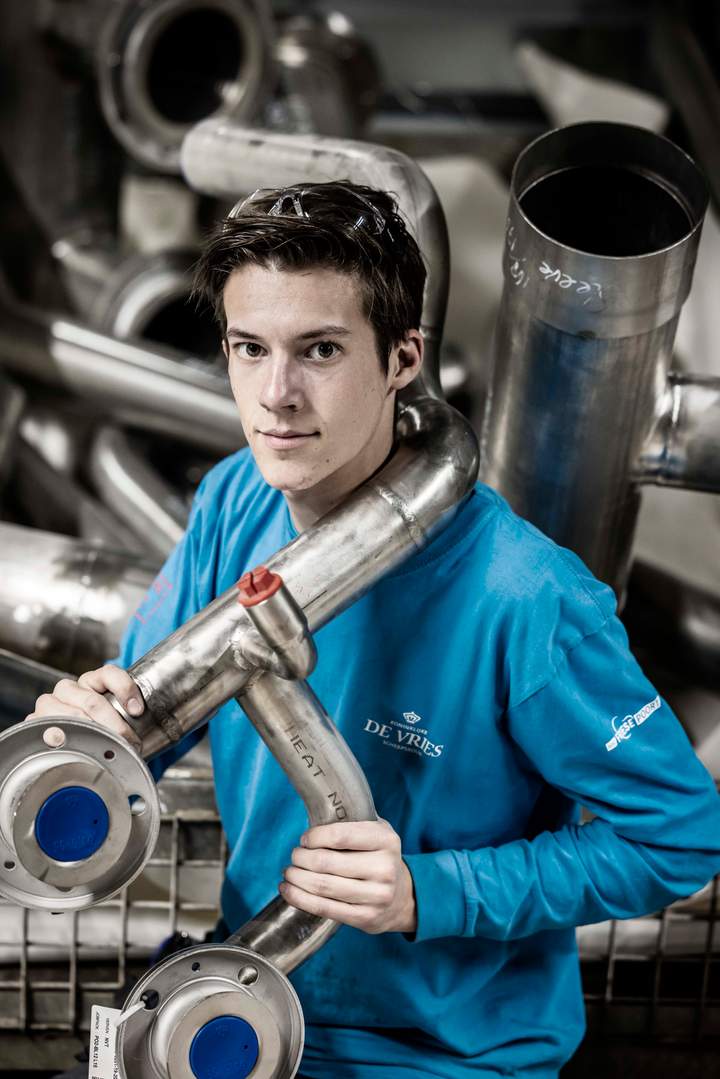 Mees
Function title: Apprentice Employee (Bbl) Maritime Engineering
Feadship Hero since: 2022
Domain: Construction/ Maritime engineering
Mees
Function title: Apprentice Employee (Bbl) Maritime Engineering
Feadship Hero since: 2022
Domain: Construction/ Maritime engineering
"In the first year you get a lot of time to see which department suits you best"
Mees works as a BBL apprentice at De Vries Scheepsbouw Makkum. For the Maritime Engineering student, this is the ideal combination between going to school and working. "I work four days a week and I'm at school for one. I like that very much, I always come home with great stories. In every department I am paired with someone with a lot of experience. This way I learn the most. About pressurising systems, for example, or installing piping in a mast. I am very proud of that."

His work at De Vries began with a tour. "A classmate put me on to this company. So I went by and had a few chats with some foremen. After a trial day I was allowed to come and work there." According to Mees, this is also the ideal way to find out what work suits you. "Look up a few companies where you might like to work. Visit them and ask questions. Ask if you can walk with them for a day. There is much more out there than you might think; at Feadship alone we have many parts that can be made with a multitude of techniques".

"In the first year you get a lot of time to see which department suits you best," Mees explains. "In the Assembly department, for example, you already have the plumbers, the small piping, the large piping and the bench workers. And within all those departments you use different techniques again. In one you are welding, in another you are bending, installing or hanging toilets. The work is so diverse, that's what I like best about it."

Mees likes to talk about his work, but often has to explain what exactly Feadship does. "People have no idea. I'll explain that we build yachts, but it is a world that many people don't really know. So everyone finds it very fascinating, I get a lot of questions. The more they ask the more I tell, because I think it's great work and I'm very proud that I started working here."